Member of: Berkshire Hathaway Home Services Meadows Mountain Realty
About
LuxuryRealty.com's Exclusive Partner for Highlands, North Carolina.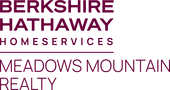 Thirty one years ago, Judy Michaud began her career in real estate in the sleepy hamlet of Highlands, North Carolina. She spent countless weeks, months and years honing her craft as one of the two top broker/agents in this bustling arena, working tirelessly for her clients at Signature Properties of Highlands. But deep inside, this willful desire was becoming the dream to have her own real estate firm. She wanted to lead a team of agents that would distinguish themselves by their commitment to the buyers and sellers of the unique properties that seem to abound in this beautiful mountain oasis.
Armed with experience, market savvy and her dream, Judy purchased Meadows Mountain Realty and began to assemble a team of professionals that are the elite core in the Highlands-Cashiers real estate marketplace. A team with one over-riding
purpose….Help each client fulfill their dream; whether it's to sell their home as quickly and effortlessly as possible or to purchase their dream home, second home or mountain get-away here in this mountain paradise. Each individual and their dream is of paramount importance to this illustrious team of professionals, from previewing each property that is listed with Berkshire Hathaway HomeServices Meadows Mountain Realty to contacting each client regularly to update them on current activities. This level of communication provides knowledge and knowledge is power in the ever-changing real estate marketplace. Each agent of this remarkable team is at work for you, knows this community and all its virtuous amenities and is techno-savvy, without losing the warm, personal touch so necessary to make the buying or selling of a home a tranquil, enjoyable experience.
In 2015, Judy decided to take her company and her team of expert agents to the next level by affiliating with one of the worlds most respected and trusted companies, Berkshire Hathaway HomeServices. By choosing to work with Berkshire Hathaway HomeServices Meadows Mountain Realty, you know you will receive the highest levels of service and integrity available and you will be working with a market leader in the area.